THE APARTMENTS
UWS Village [Parramatta] consists of 13 separate buildings and 73 units generating a total of 345 beds. The buildings are typically 3 storeys and are predominantly made up of 5 and 6 bedroom apartments.
All buildings and facilities at the Village are brand new with our first residents arriving in 2009.
Modern, high quality furniture and fittings have been architecturally designed specifically for university students lifestyles and have been chosen to create a relaxing and stylish atmosphere within each apartment. Smart furniture design, large size kitchens and tiled bathrooms ensure that all apartments and common areas within the Village provide a refreshing, stimulating and comfortable environment for both living and studying.
There are five different styles of accommodation
Eight (8) bedroom apartments
Six (6) bedroom apartments
Five (5) bedroom apartments
Four (4) bedroom apartments (SOLD OUT)
One (1) bedroom apartments (SOLD OUT)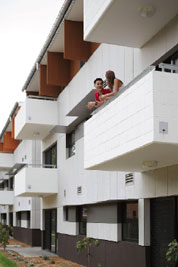 SO MANY GOOD OPTIONS...
we have plenty of accommodation options to suit your needs